Step into Style: The Ultimate Guide to Wedge Sandals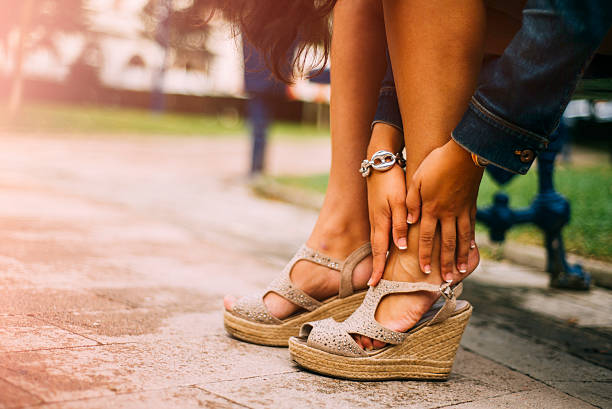 As the sun emerges from its winter slumber and the temperatures begin to rise, it's time to ditch those bulky boots and embrace the allure of summer footwear. Among the myriad options available, wedge sandals stand out as the perfect combination of fashion and comfort. These versatile shoes offer a stylish elevation that complements a variety of outfits, making them a must-have addition to your warm-weather wardrobe.
Wedge Sandals: A Brief Introduction
Wedge sandals are a timeless footwear staple that have been gracing runways and sidewalks for decades. Unlike stilettos, which can be difficult to walk in for extended periods, wedges provide stability and support, making them ideal for daily wear. The defining feature of wedge sandals is their sole, which extends from the heel to the ball of the foot, providing an even distribution of weight and reducing the strain on your feet.
The Comfort Factor
One of the primary reasons wedge sandals have endured as a popular footwear choice is their comfort. Unlike high heels, which often leave wearers longing for the moment they can kick them off, wedges offer a level of comfort that allows you to stay on your feet all day without discomfort. This makes them a top choice for those who want to look stylish while maintaining a high level of comfort during summer activities.
Versatile Styling Options
Wedge sandals come in an array of styles, making them suitable for various occasions. Whether you're headed to the beach, a casual brunch, or a summer soirée, there's a wedge sandal that will perfectly complement your outfit. Opt for espadrille wedges for a beachy vibe, cork wedges for a laid-back look, or metallic wedges for a touch of glamour. The versatility of these shoes means you can effortlessly transition from a day at the office to a night out on the town.
Pairing with Outfits
Wedge sandals are incredibly adaptable and can be paired with a wide range of outfits. For a relaxed daytime look, pair them with a flowing sundress or high-waisted shorts and a tucked-in blouse. To elevate your evening attire, choose a sleek pair of wedges to complement a cocktail dress or wide-legged pants and a statement top. The options are virtually endless, making wedge sandals a go-to choice for both casual and formal occasions.
Caring for Your Wedges
To ensure your wedge sandals stay in tip-top condition, it's essential to take good care of them. Clean them regularly with a soft brush to remove dirt and dust, and consider using a protective spray to prevent stains. Store them in a cool, dry place and avoid exposing them to extreme temperatures, which can cause damage to the materials.
In conclusion, wedge sandals are the ultimate summer footwear, offering a winning combination of style, comfort, and versatility. Whether you're strolling along the beach or attending a chic garden party, these shoes are the perfect companion for warm-weather adventures. So, step into style and elevate your summer wardrobe with a fabulous pair of wedge sandals. Your feet will thank you, and your fashion game will be on point all season long.